Kalapatthar Trekking Store
launches new webiste. All the visitors are requested to send us feedback about our site .
Thanks

Hello Guys, We have launched this new site, destined to provide every trekking and mountaineering needs. Hope you will take maximum benifit of this site. Please help us with your valuable feedback. Good Surfing
More
»

Gravity Gas Stove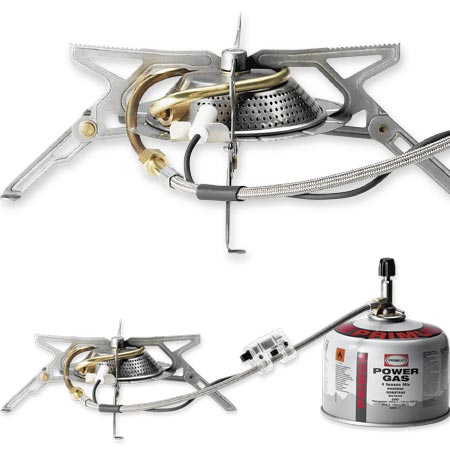 If you appreciate the simplicity of cooking with LP gas, you'll love this small and very stable backpacking stove from Primus.

Product Specs:Brand: Primus
Weight: 265 gms
Output: 3000 W
Boiling time: 3 min
Piezo ignition: Yes
Suitable for: 1-4 peopleCost Specs:Selling Price: US$ 77
Renting Price: US$ 2

Product Description:
If you appreciate the simplicity of cooking with LP gas, you'll love this small and very stable backpacking stove from Primus. Light and low profile, the Gravity features a super-flat (spider) construction. The low stance of the stove makes it very stable. It also keeps the stove small and compact when it's stowed away. The horizontal pre-heating coil brings the stove up to temperature quickly and efficiently, even in cold weather. It also has a convenient built-in piezo igniter and comes with a windscreen and heat reflector.

Features

Primus' new "Integrated Burner Technology" lowers the stove's centre of gravity to make it more stable
Mushroom-style burner allows for good flame distribution
Bottom mounted heat deflector saves space and helps direct heat upwards
Convenient, push-button piezo ignition
Boils 1-litre of water in 3 minutes (at sea level and 20°C)
Burns Primus® Power Gas LPG fuel canisters (sold separately)
Four foldaway legs
Includes wind screen and heat reflector